1. What is ChitChatChannel?
 "Chitchatchannel is an online marketplace for retailers, influencers and content creators fused in a social media ecosystem."

 On the Chitchatchannel social media pages called channels, users can build teams, groups, business-outlets, or influencer brands using features that empower them and their participants with multiple, unique experiences.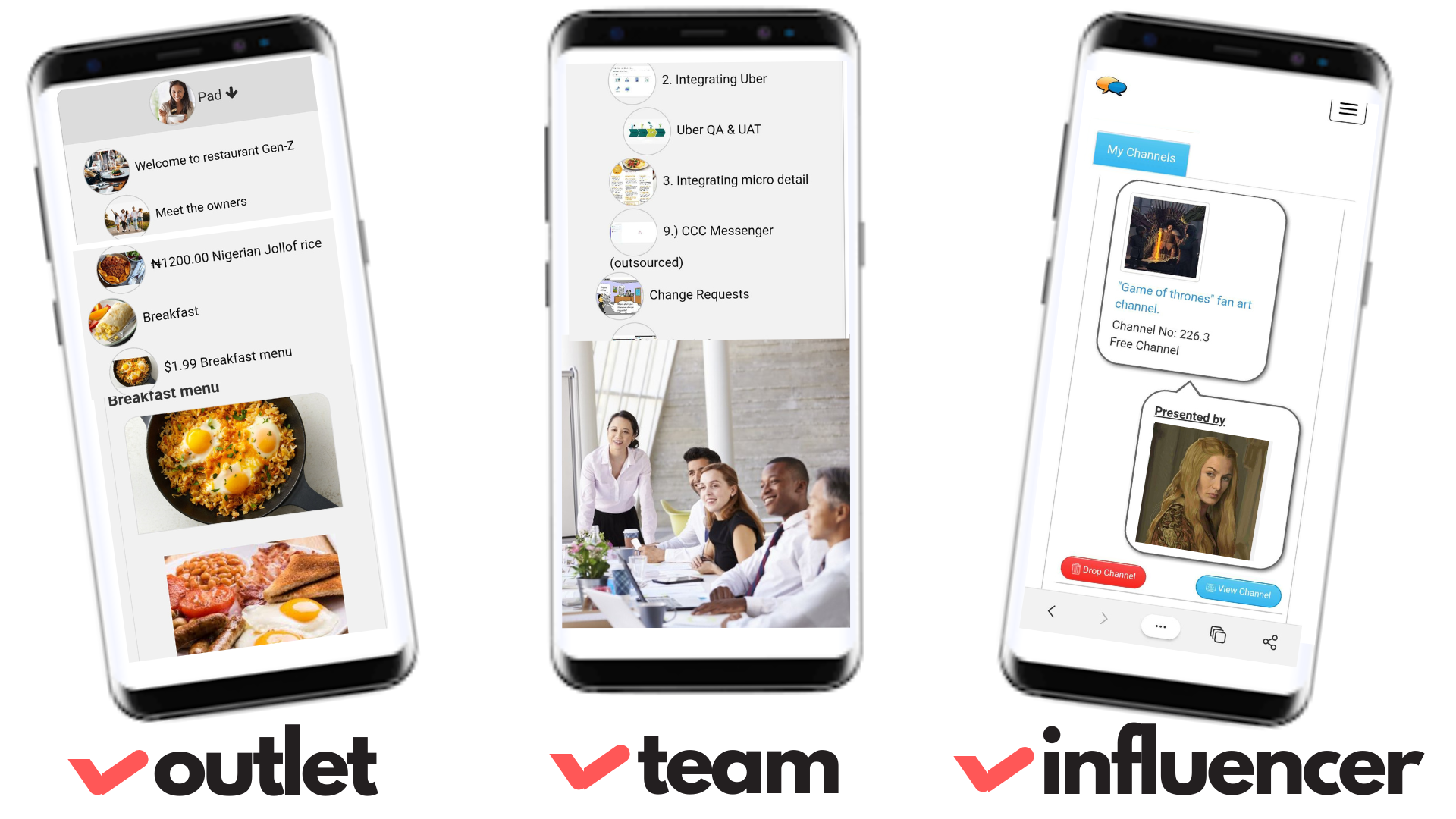 Participants join channels.
Presenters own channels
Users can switch between both.
2. What are the unique features?
One moment you are captivating your participants with your influencer brand — dropping unique content though POSTS or STREAMING BROADCASTS, and CHATTING or MESSAGING; the next, you use the power of the REALTIME ORDERING feature to offer products for sale in-between posts. Or you can simply create ANOTHER channel as an outlet where you catalogue and sell your products for your business, putting the same power as platforms like UberEats, at your fingertips, where your participants have the realtime online ordering experience irrespective of your industry, CURRENCY, or LOCATION. And then there are other features that make it an ecosystem.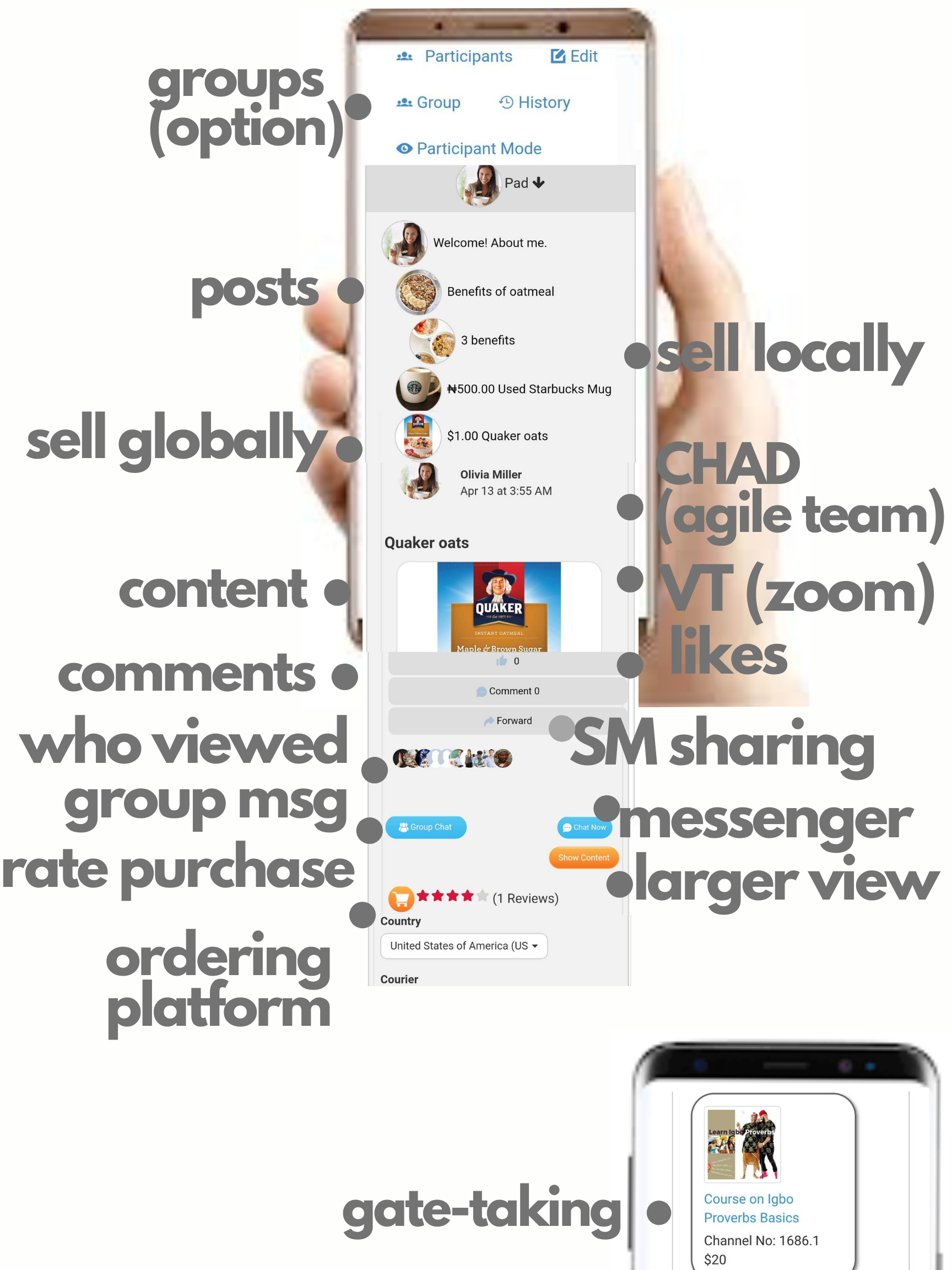 3. What experiences can I create?
So, video telephony + gate takings +order system + participants = you can pretty much offer anything on your page: From presenting your own entertainment channel, to offering your own educational courses, to hosting product launches, bazaar markets, self-broadcasts, marketing channels, real-estate showings, to live-events or virtual restaurant shows (where users order while the restaurant entertains and even takes gate-taking for access) — and anything in-between. Or simply use it as your store outlet.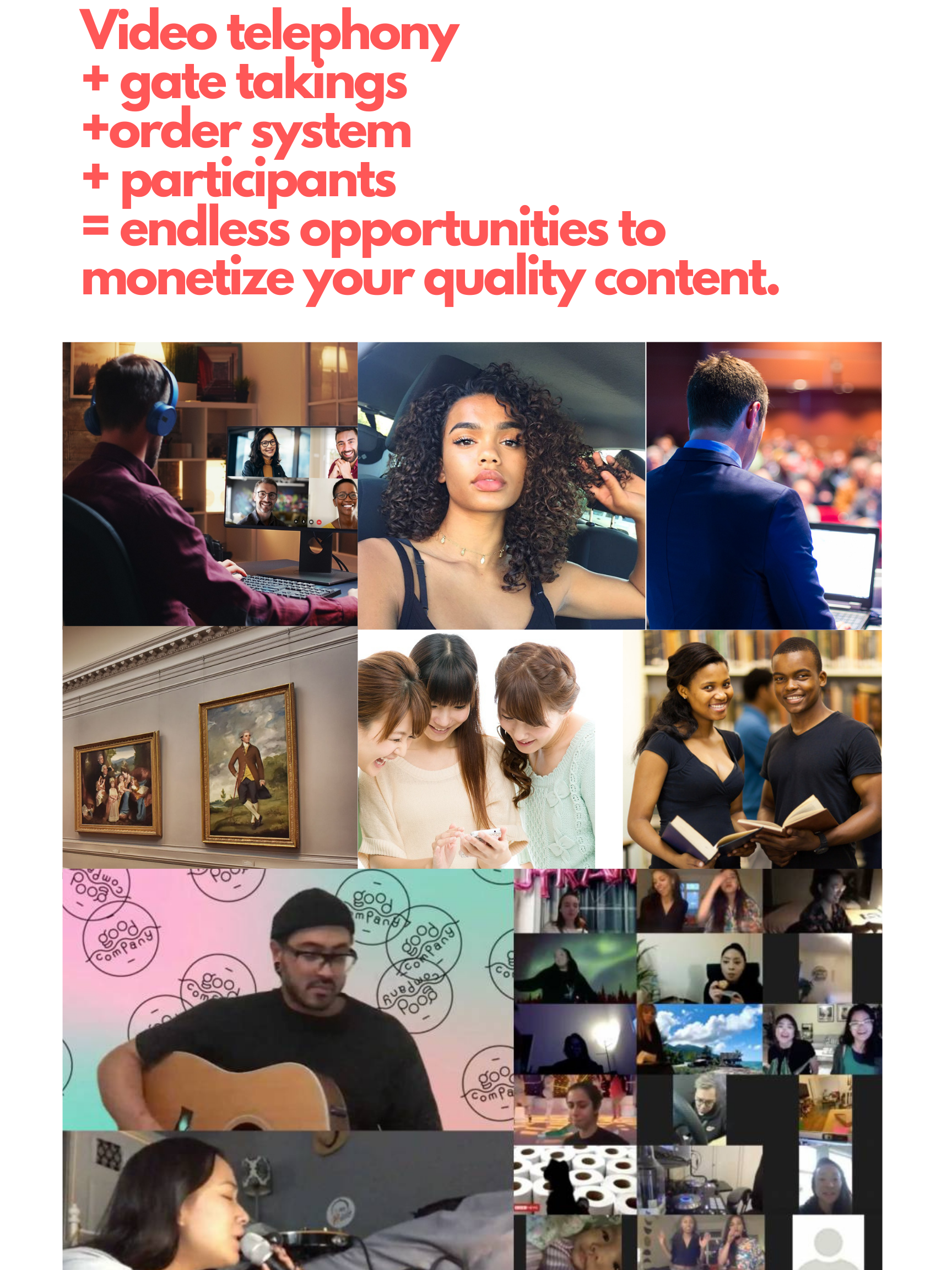 4. What brings all these features together?
One of the greatest things is the way you are empowered to arrange your posts on the Pad.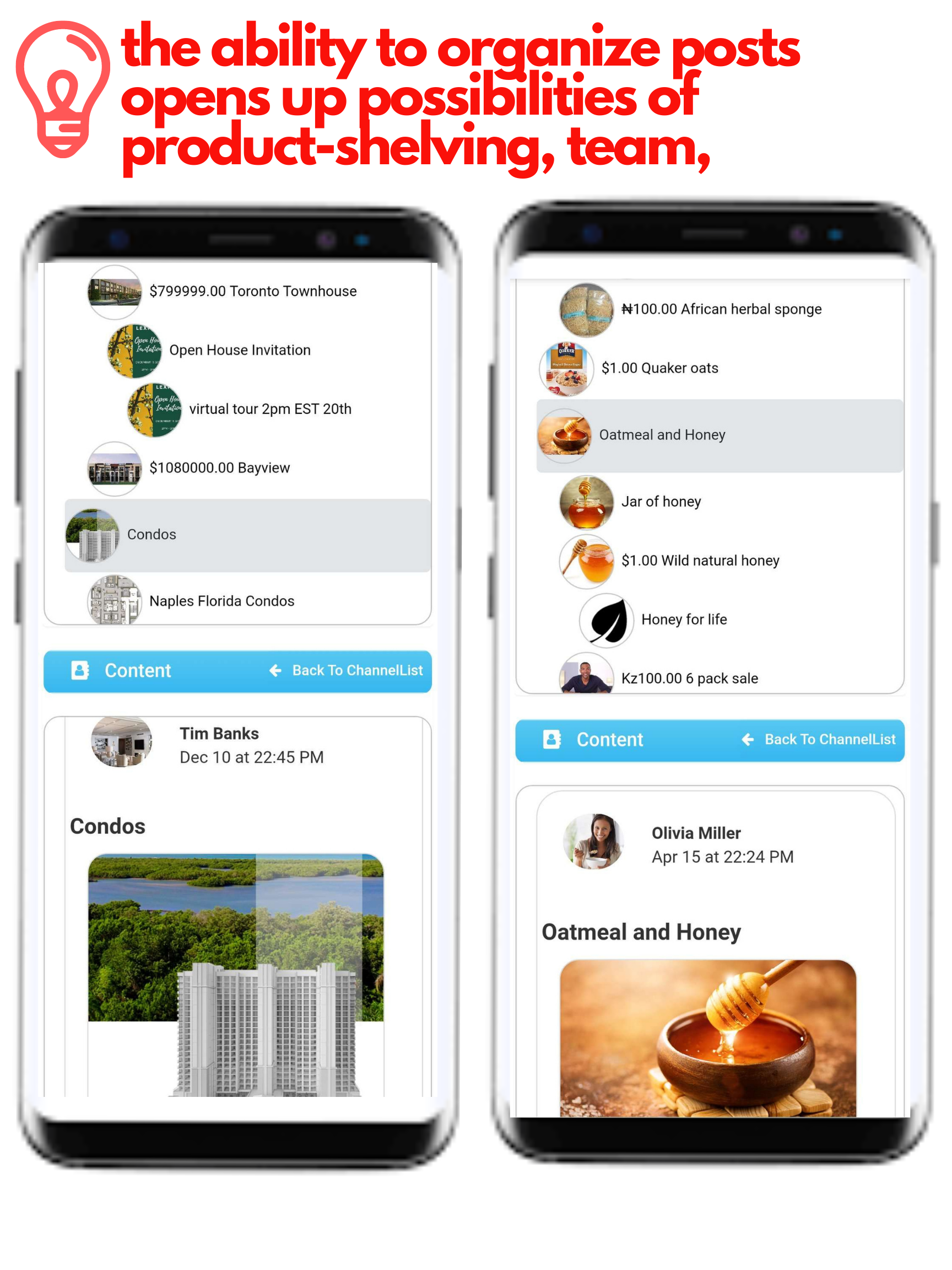 5. Who can own a channel?
Anyone can own a channel.
6. How can I get my channel?
The moment you log in for the first time, you are instantly assigned your own channel number, but you don't see it till you create your first channel.
7. What is the gate-taking feature?
Chitchatchannel empowers you with the ability to add gate-takings for access to your quality content. This is a gamechanger, especially when used with other features.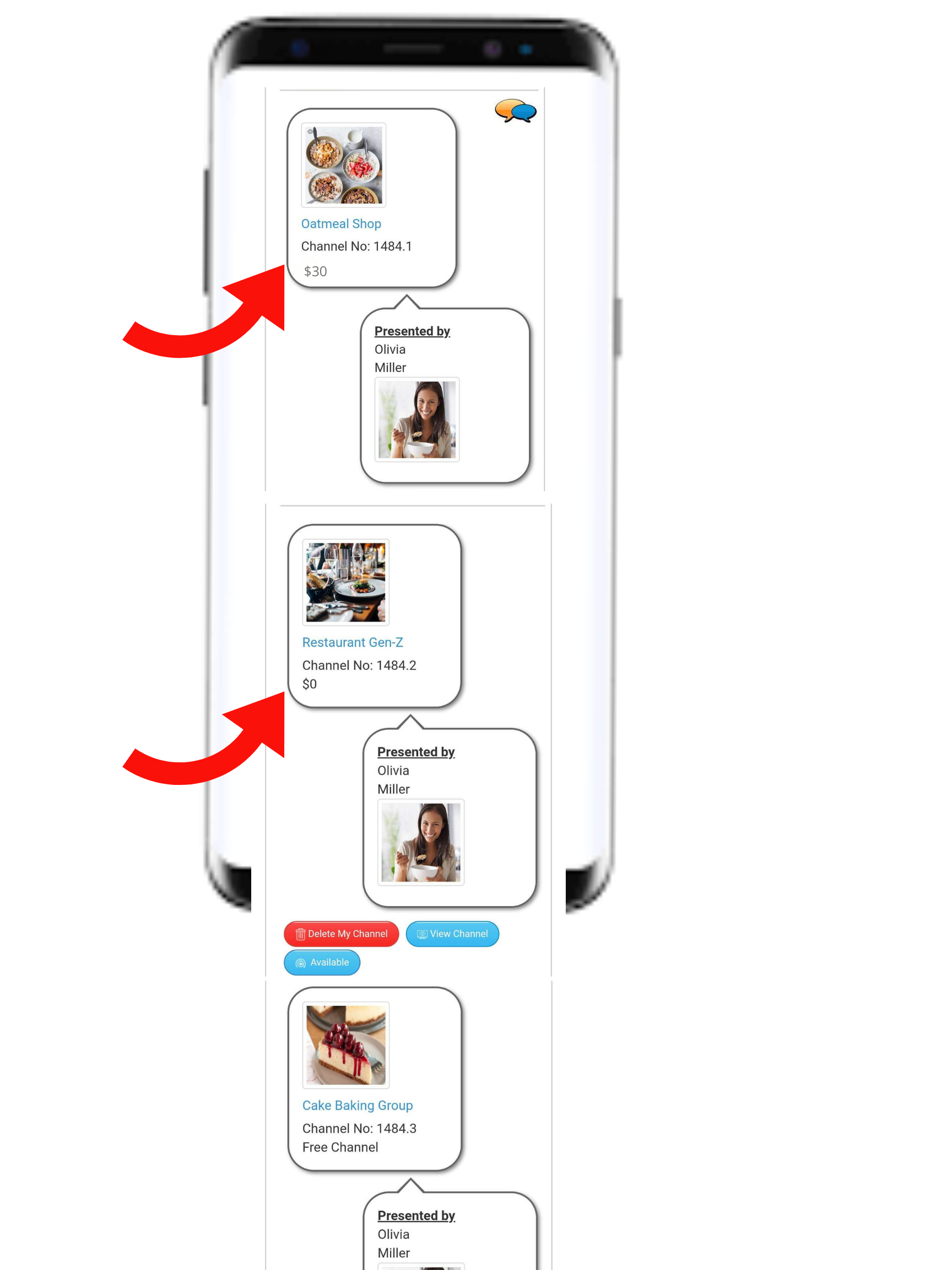 8. What is the video-telephony feature?
Video Telephony is our integration with Jitsi, which is like zoom — and is on every channel ready to use for your live-meetings or broadcast.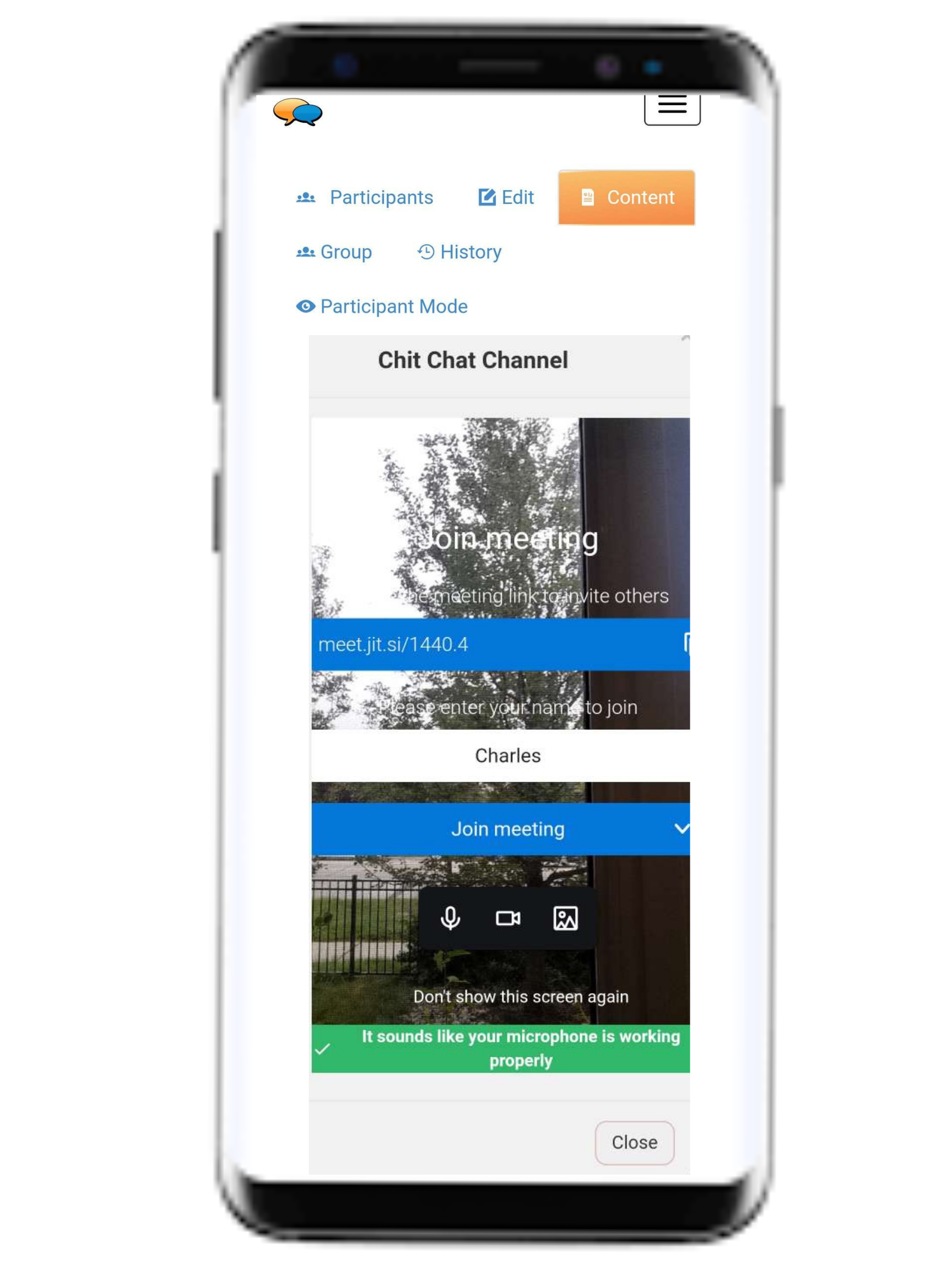 9. How can I use video telephony?
So, you are the channel owner or have assigned someone Admin rights on your channel, and have added a few posts, including one that calls for the meeting (e.g., #1, below). If using a mobile phone, it auto scrolls down to #2. When the participants are ready, you start the meeting. Participants on the other hand, click also to join, they click on COMMENTS and click to join the VIDEO CONFERENCE.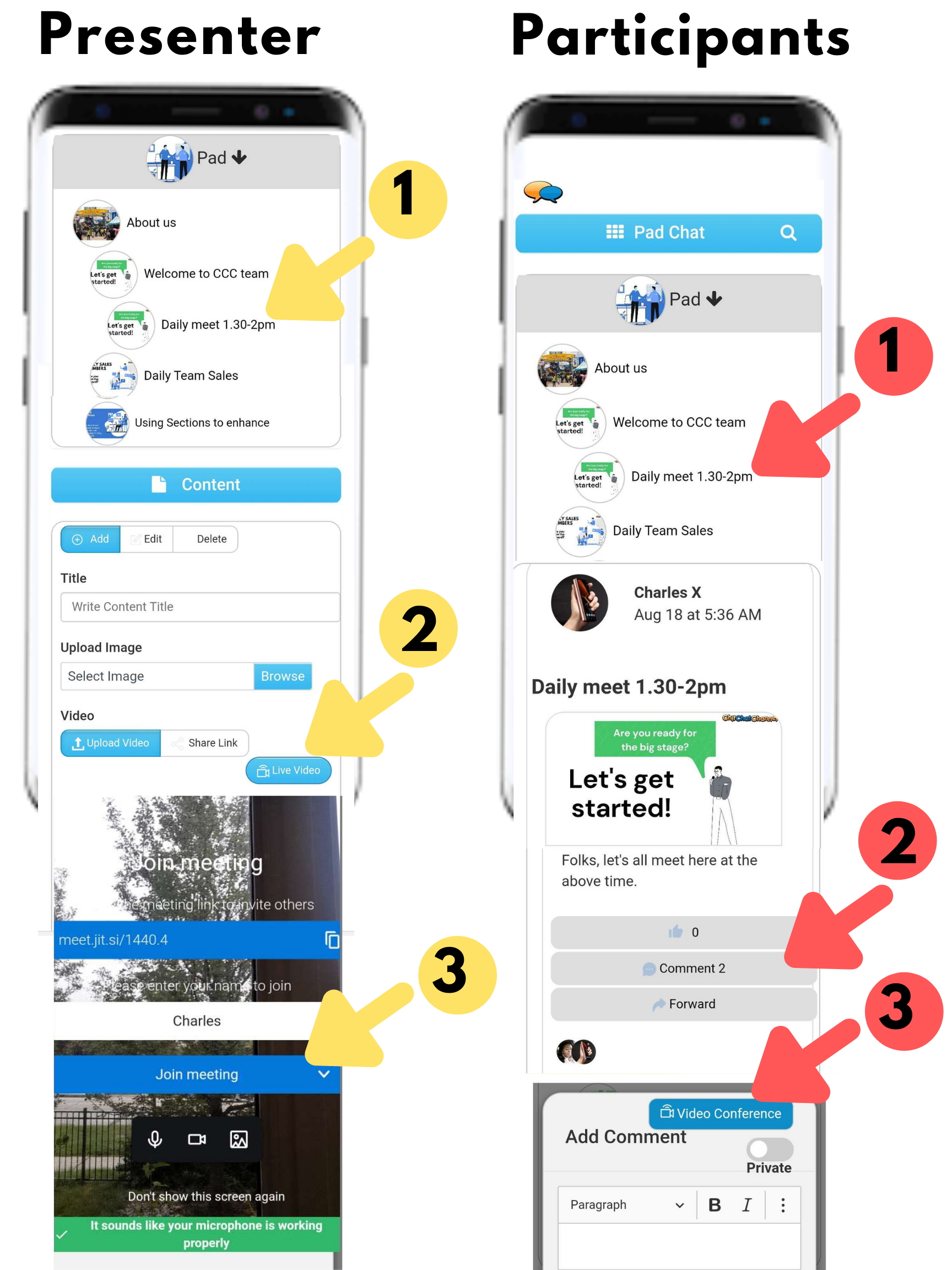 10. How can I access or create my channel?
To create a channel, click on "Business Channels" then "Create New Channels" and fill the form to create your channel. It takes a few seconds. The FAQ on that page and the subsequent page will guide. Otherwise follow the steps in the image below.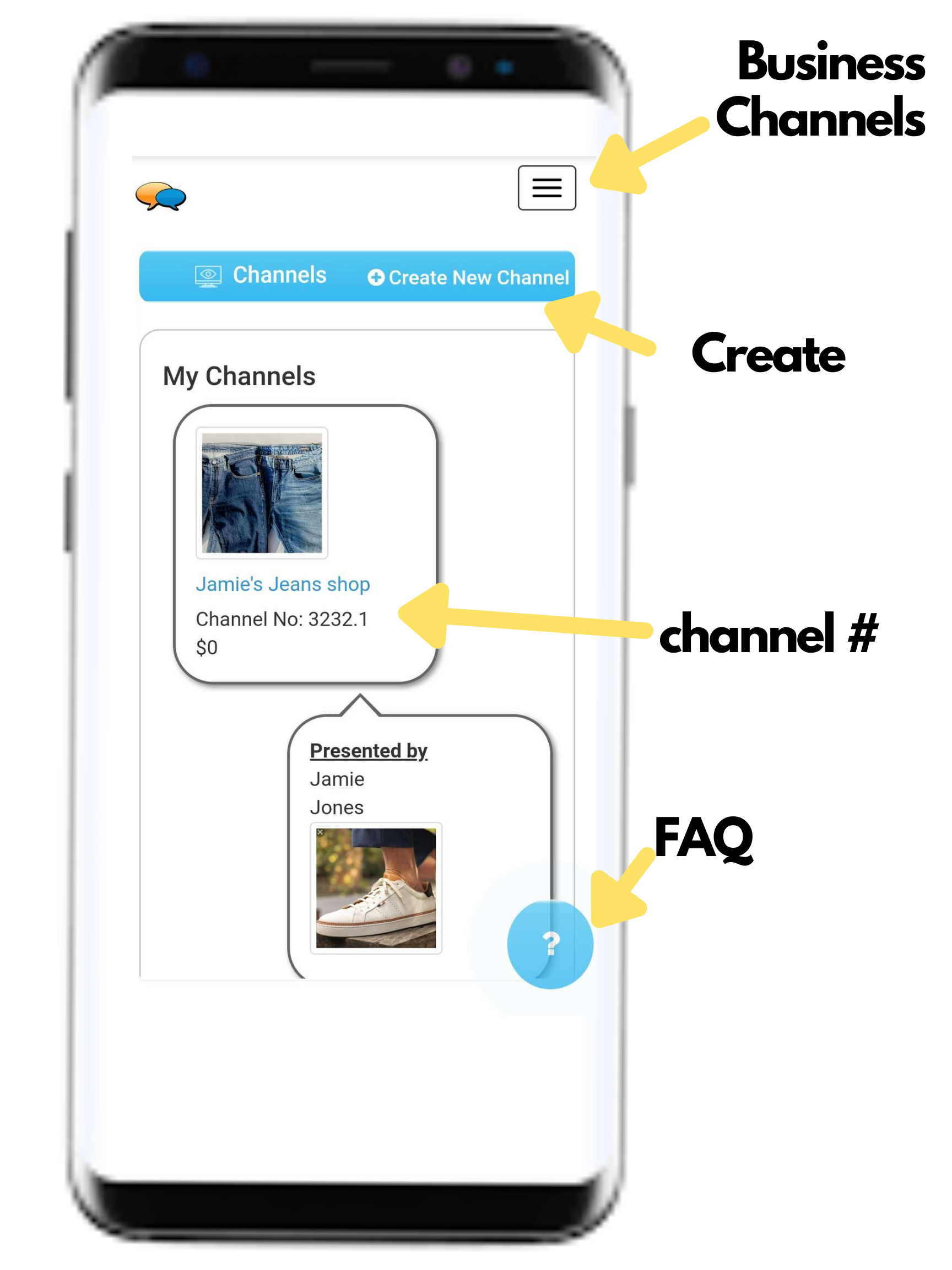 11. Do Participants have to pay for channels?
No. It depends on whether the channel is set as free or not. Participants can see the status of the channel from the Channel list. However, if it is a payable channel, they would need to load up their credits and then try again. The system will take the payment from there and grant the user access.
12. How can I pay for channels?
When influencers and channel owners put a price or gate-taking on their channels, it means that users must pay for access. It can be paid in these few steps, below.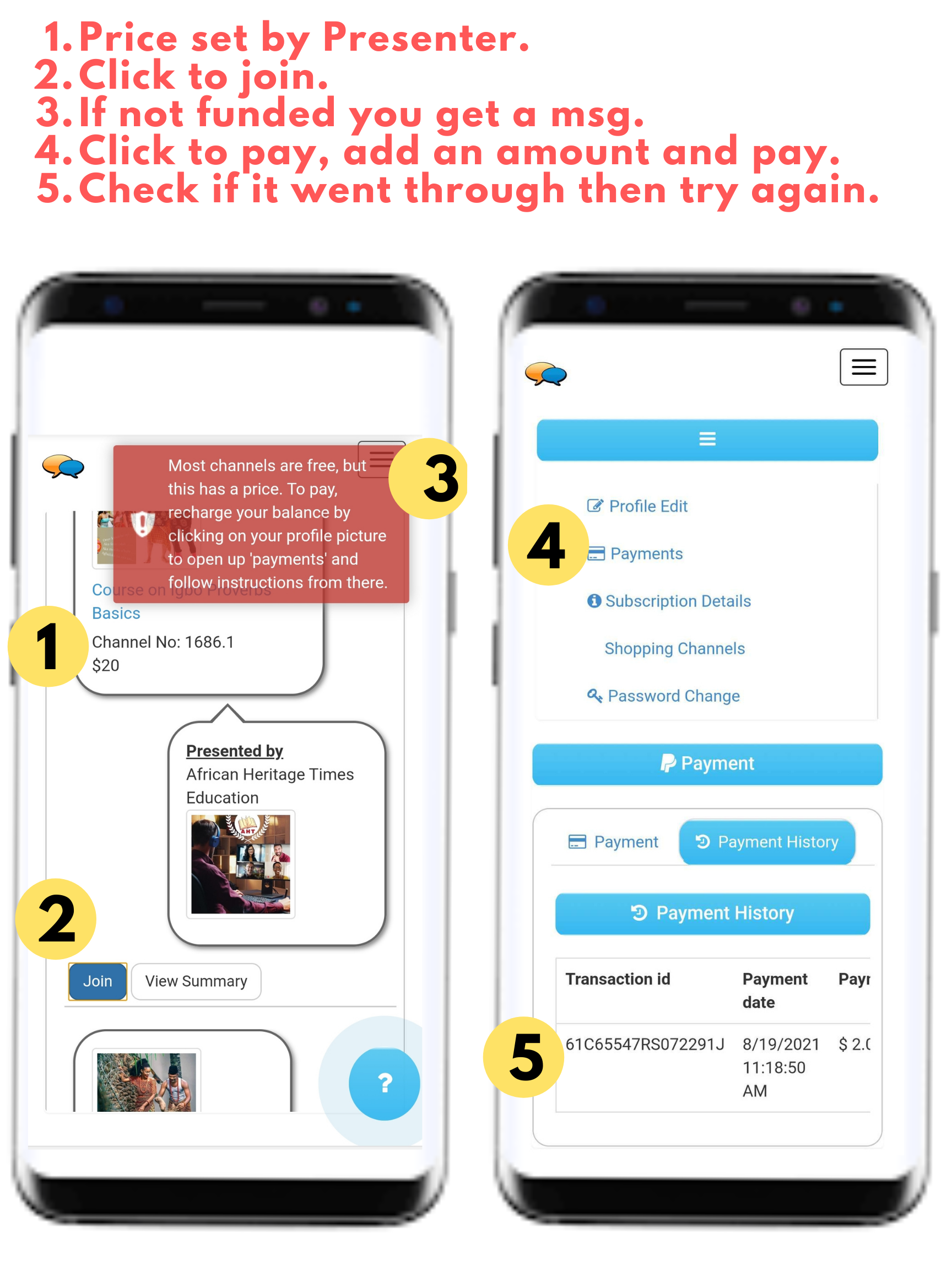 13. Is there a way to invite friends?
Absolutely! As long as the presenter knows the email address of the person they would like to invite. Once you have created your channel, you will find the Invitation box under the PARTICIPANTS tab.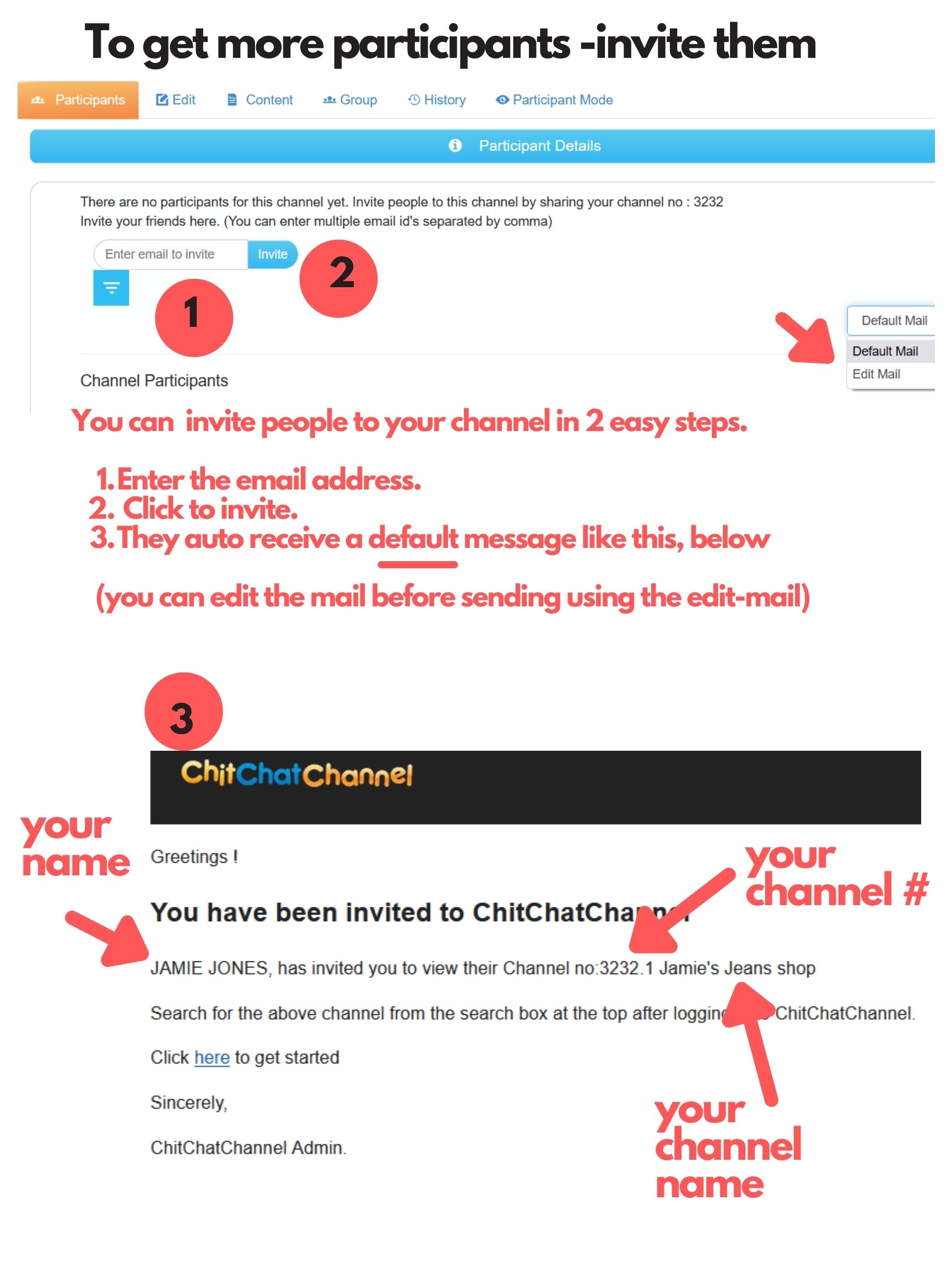 14. How do I find channels?
Once you log in successfully for your first time, you will see a search box. Plug in the channel name or number and hit search to find it.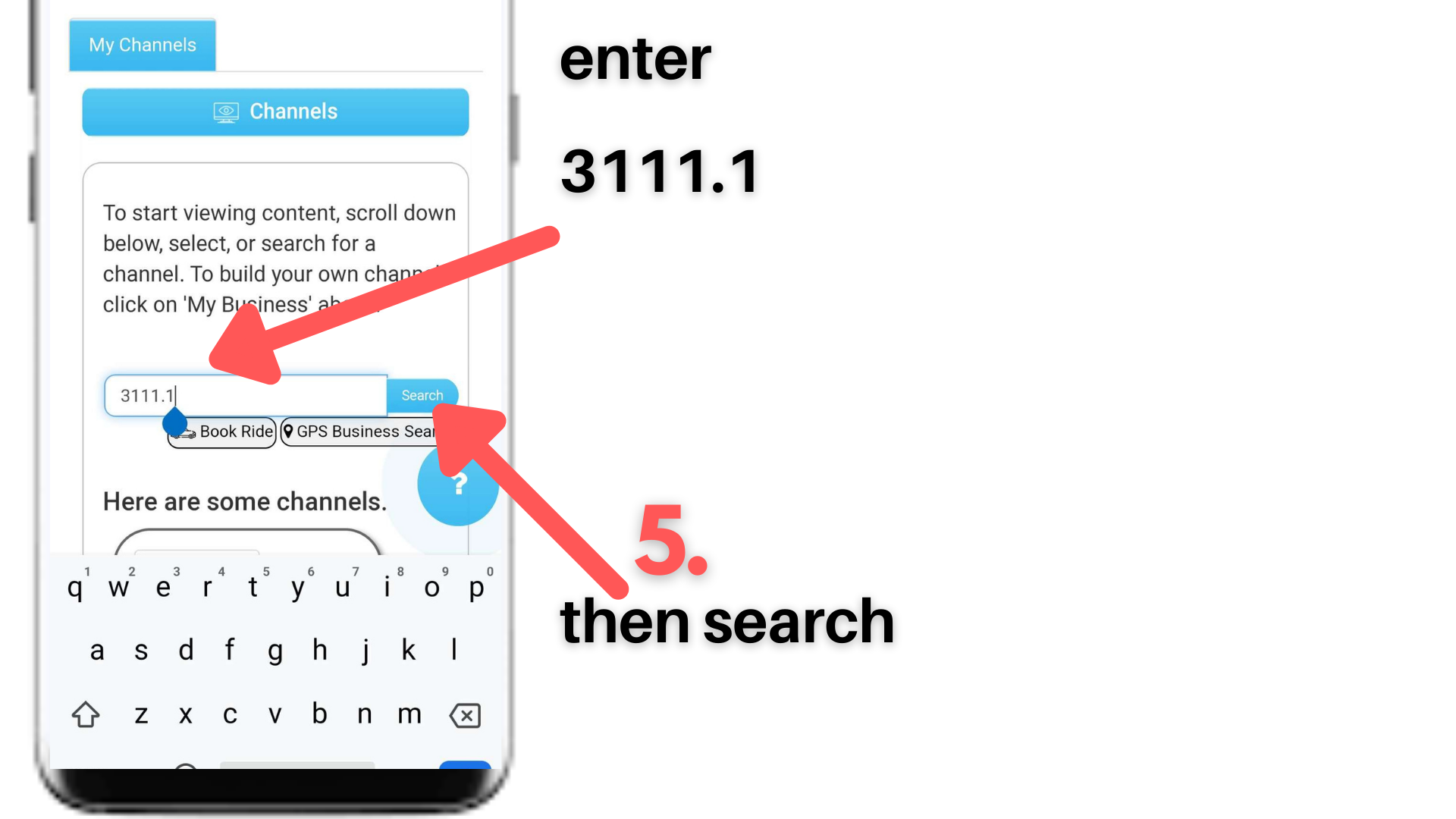 15. What is the gate-taking feature?
Absolutely! There may be occasions where you need to search out channels of those geographically close to you ~ like restaurants, boutiques, or what have you to do that use the GPS search.

First, ensure you have entered your address in the profile section using the GPS (click on your name on top of the page, then 'Account' and proceed to update your address). Then use the 'Map Search', enter a distance range to pull up any in your area.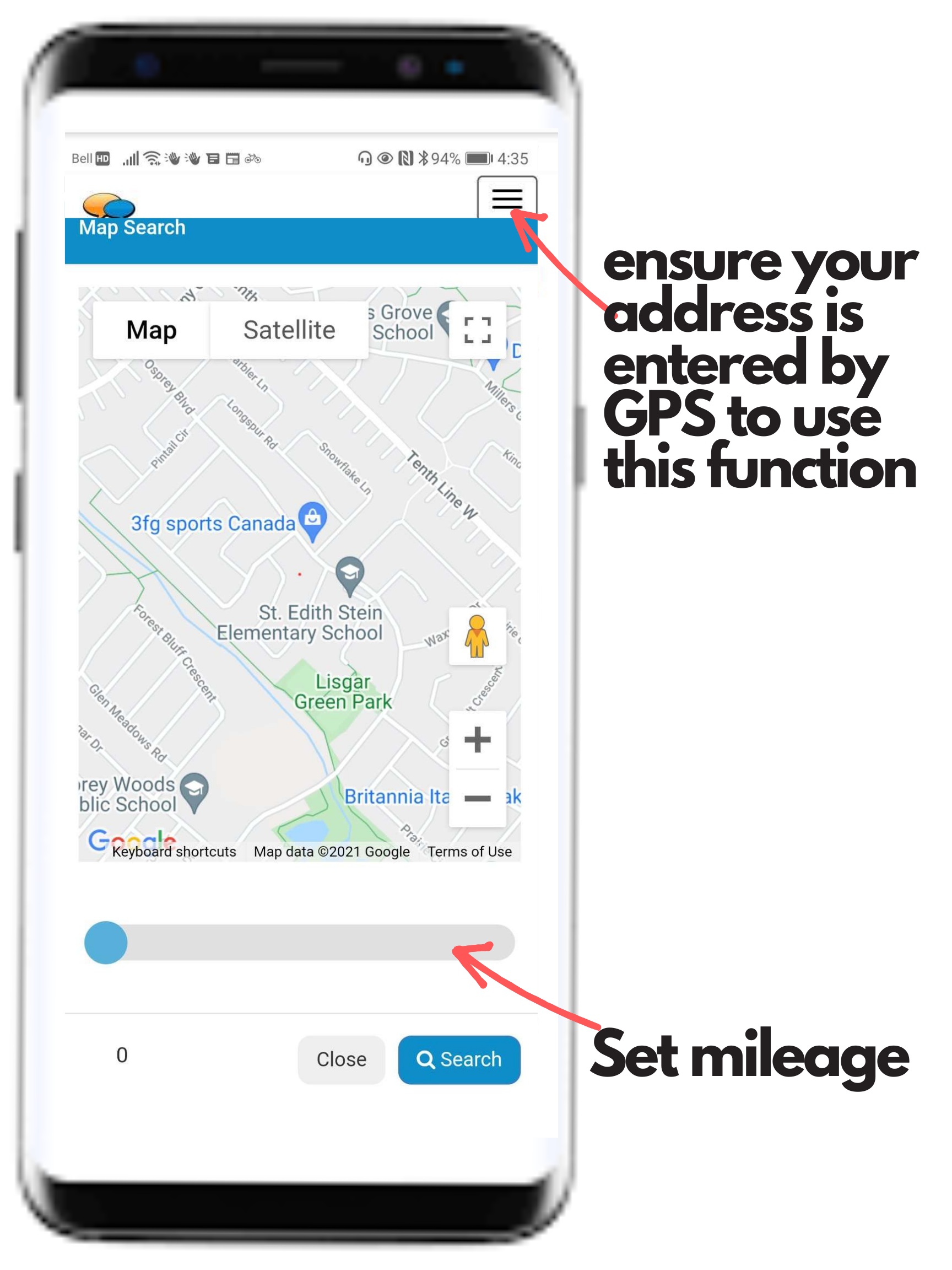 16. How do my participants see my posts?
As a Channel owner, you often wonder how your participants see your posts. You can check the PARTICIPANT MODE to view.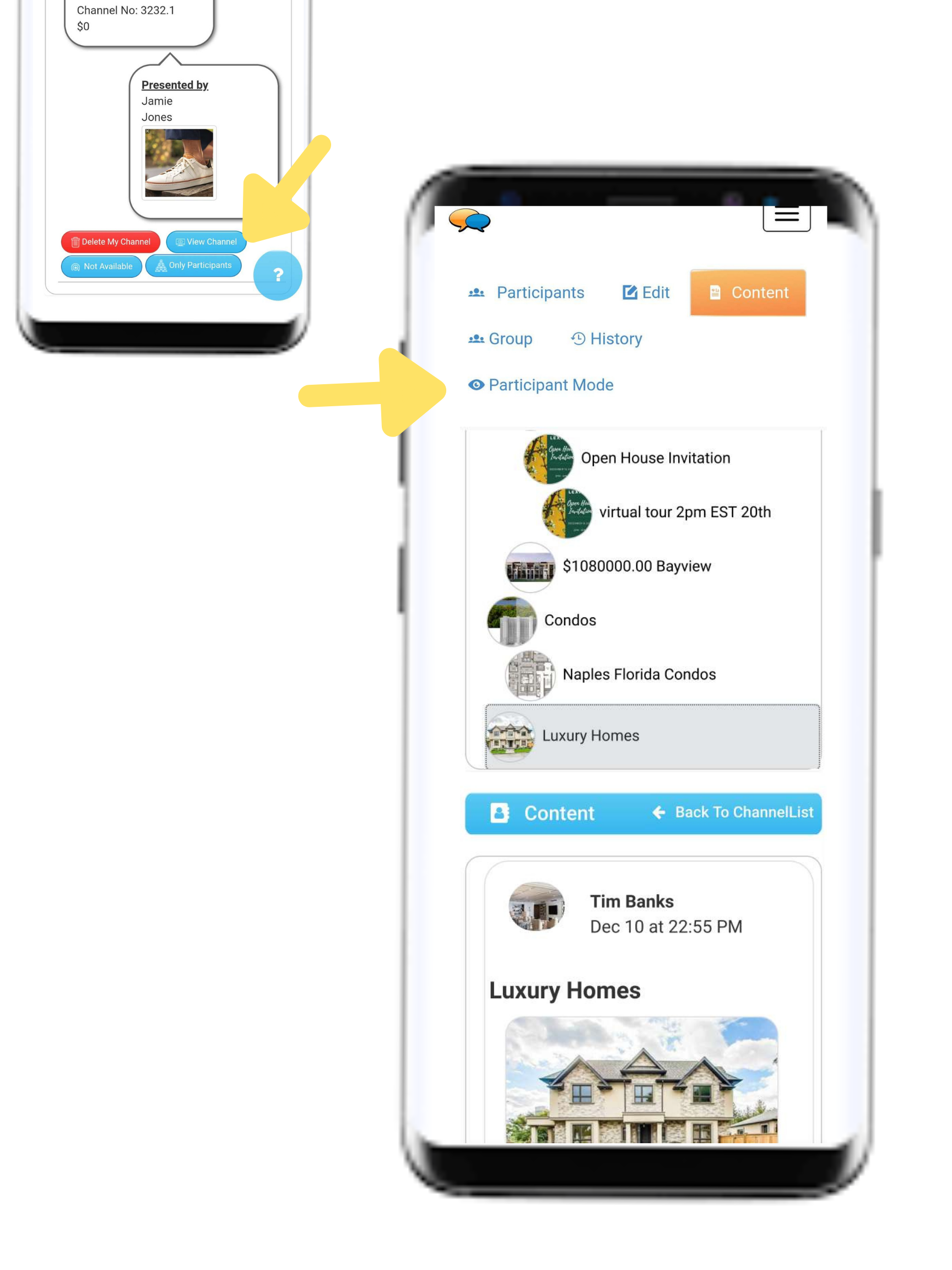 17. How do I edit my already created posts?
Editing or deleting your posts is a 3 step process.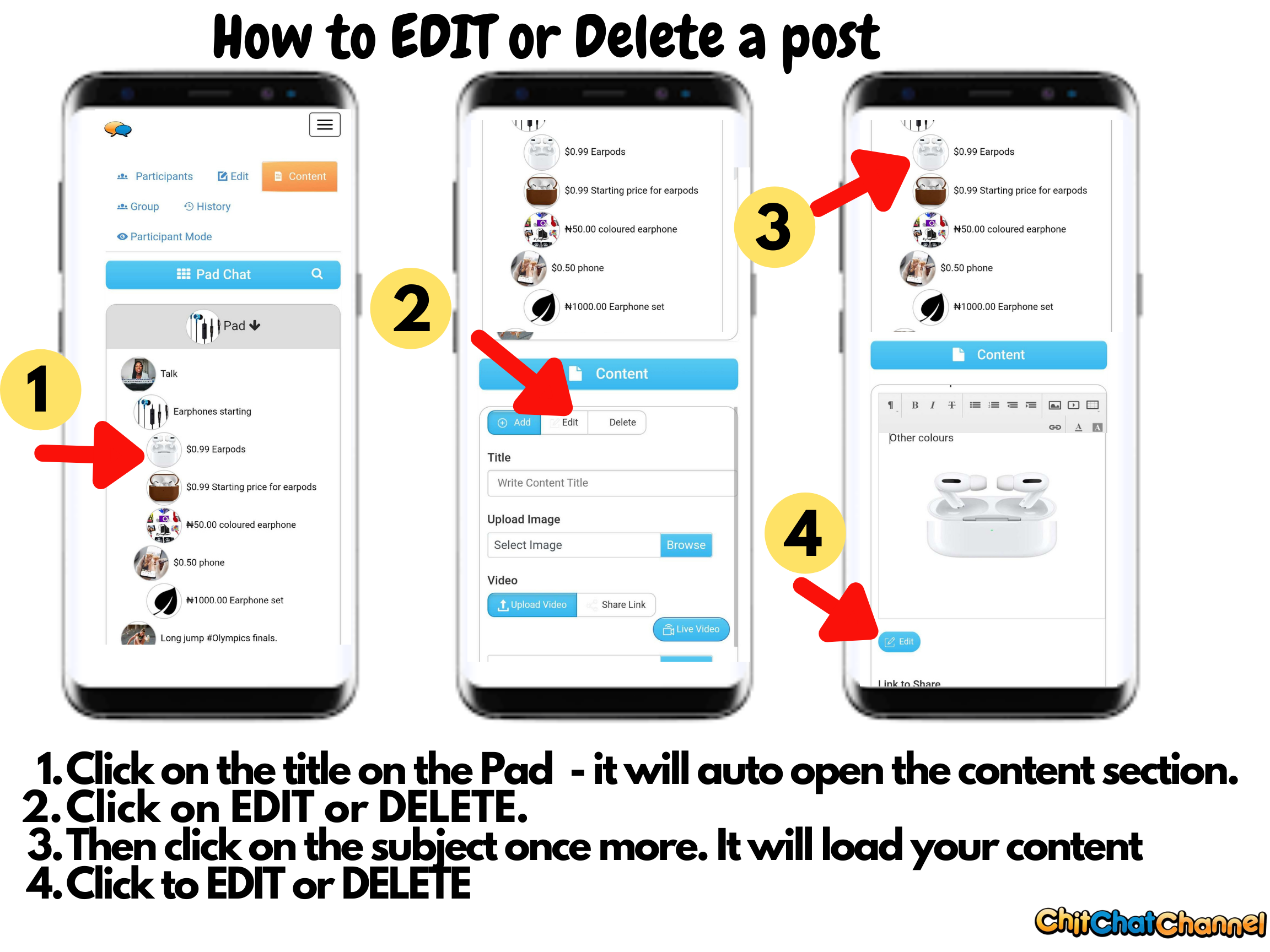 18. How can I share to other social media?
Absolutely! Navigate to the post. Click on the FORWARD button then copy the link for sharing or click to share directly in the steps below.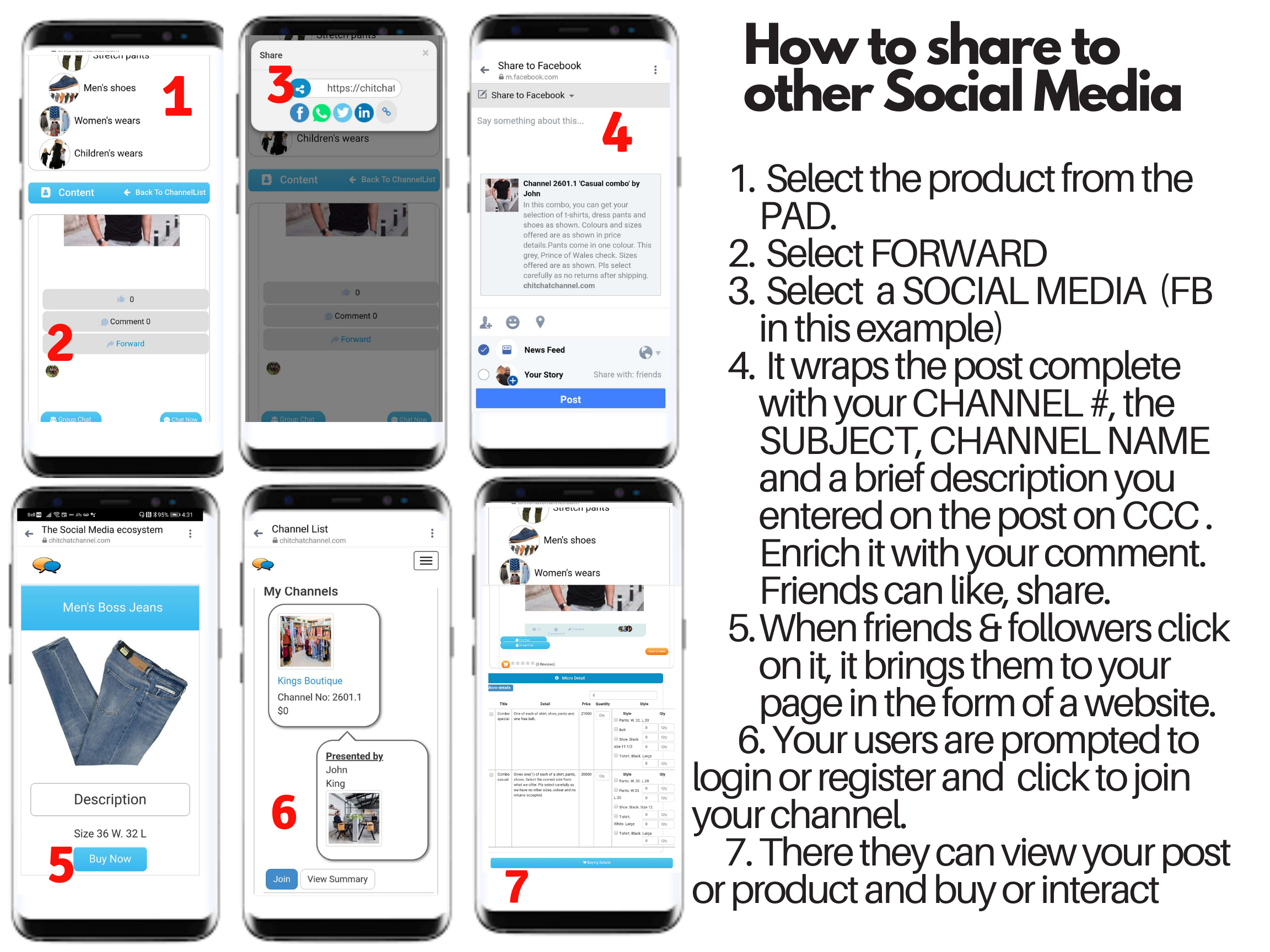 19. When using a mobile phone, the size looks small - is there a larger format?
Absolutely! Click on 'Show Content' at the bottom of any post to see the large format web-view.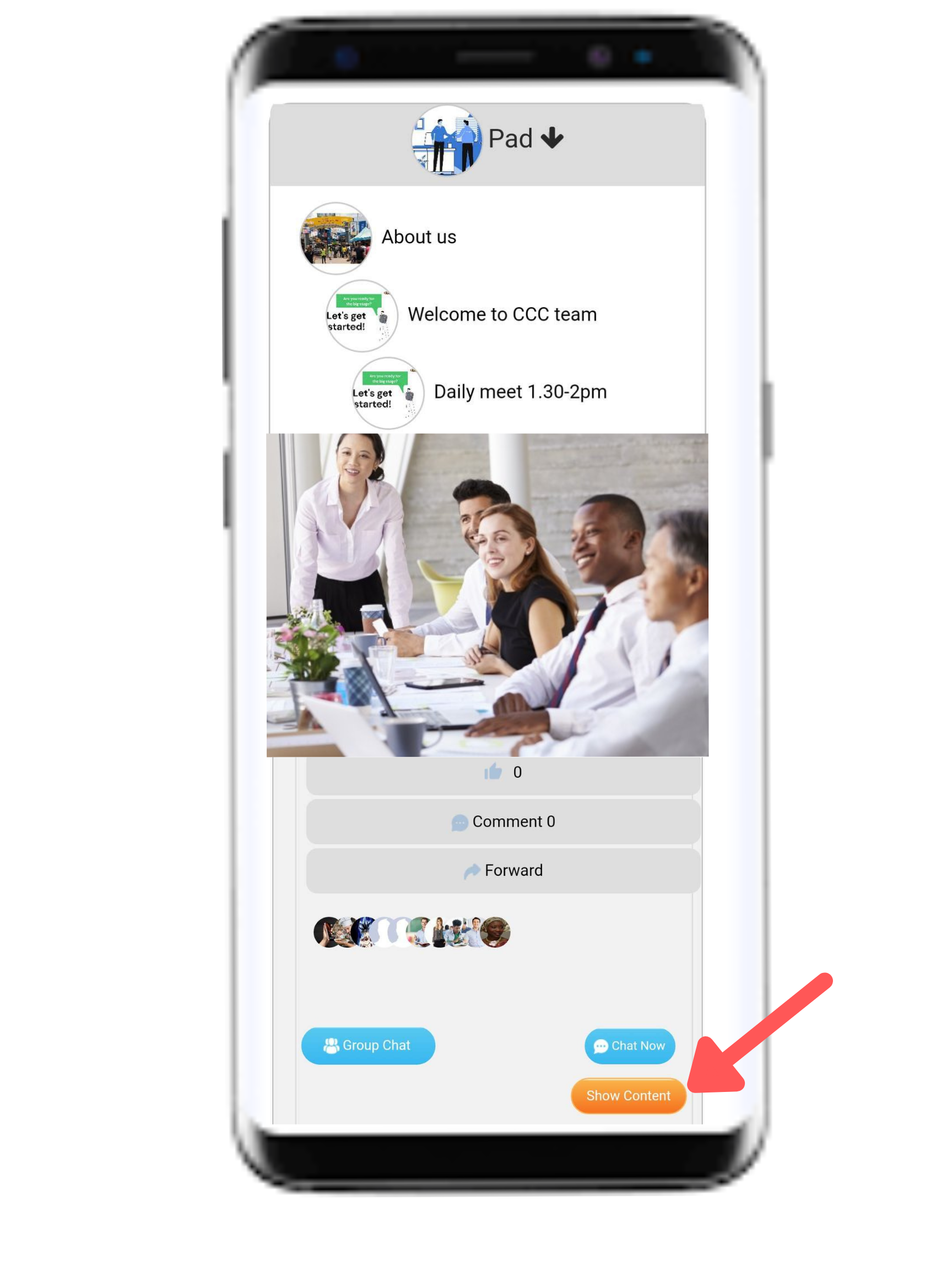 20. Setting up my posts WITHOUT prices
Setting up a product without pricing can be done in a few quick steps.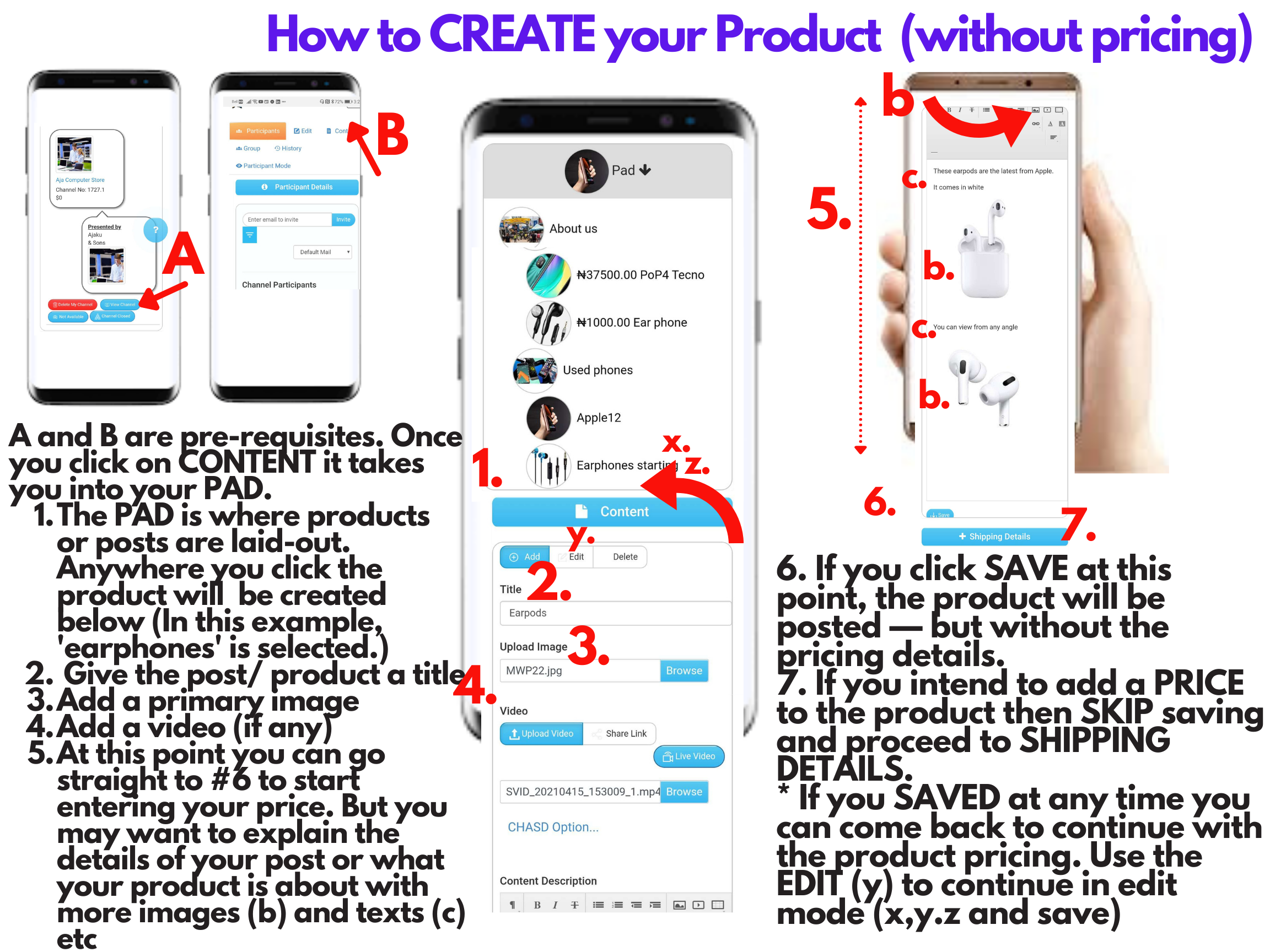 21. Setting up my products with prices
There are 2 ways to set up your posts or products with prices. There is a simple way in a few clicks (imagine setting up a single item for sale ~ like a book or an item of clothing, etc); and then there is a more elaborate way (imagine how UberEats would set up a restaurant with food types, extras, options and combos).

At Chitchatchannel you are empowered to do both — and for any industry. Let's walk you through.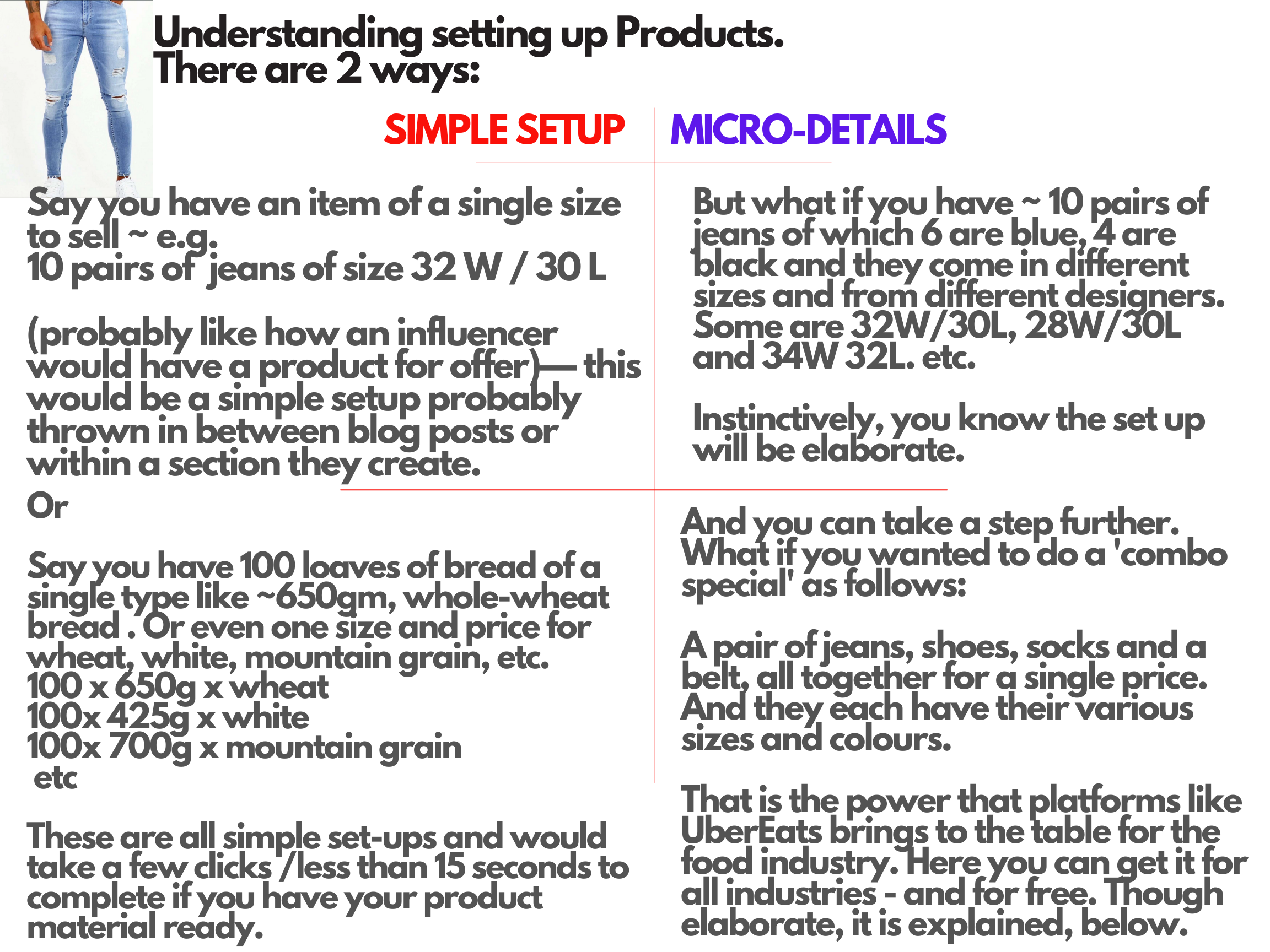 22. How can I set up my posts WITH prices using the REGULAR METHOD?
Follow the steps below. The prerequisite is that you must have set up the product (without prices) and have either SAVED it or NOT. If previously saved, you click to put it in edit mode to continue (see How can I set up my posts WITHOUT prices above.). Pls follow the steps below.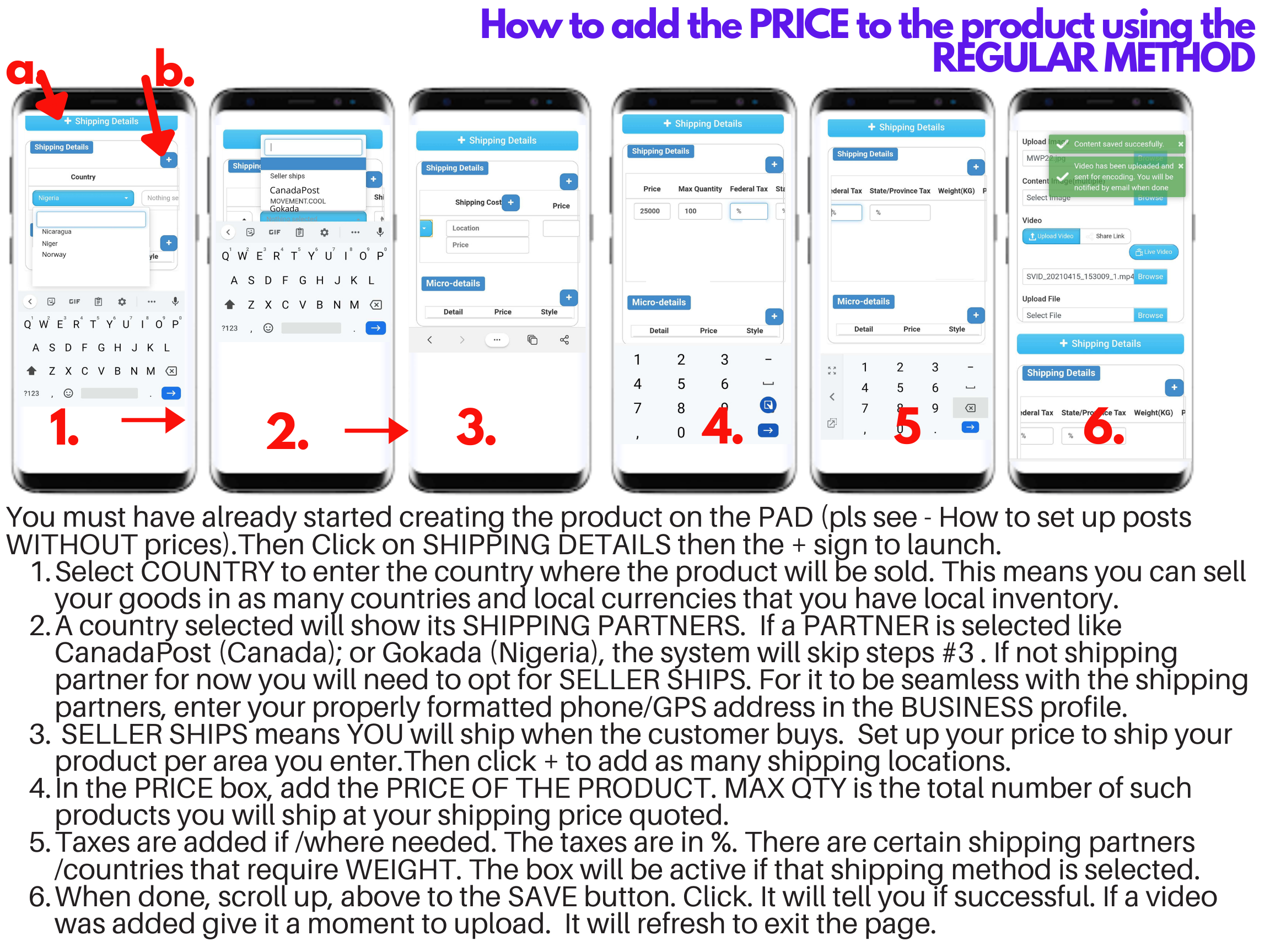 23. How do my participants see my posts when I use the Regular method?
Pls see below. Note, you can also use the PARTICIPANT MODE to view. (One tip is to always use the Participant mode till you want to edit/post, then change to CONTENT mode.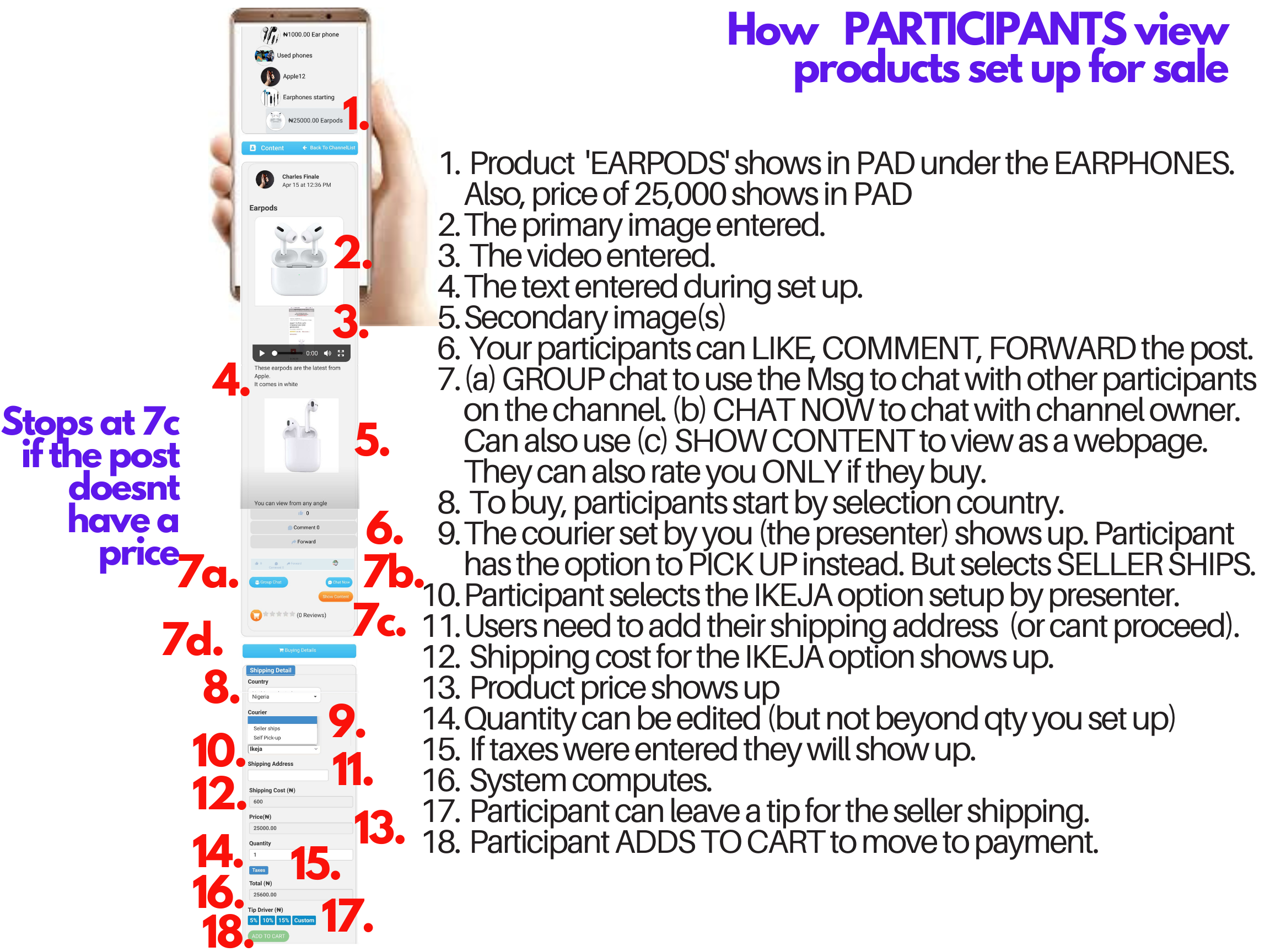 24. How can I set up my post WITH prices using the MICRO-DETAILS?
First of all, you need to go through the process of creating the product using the normal method.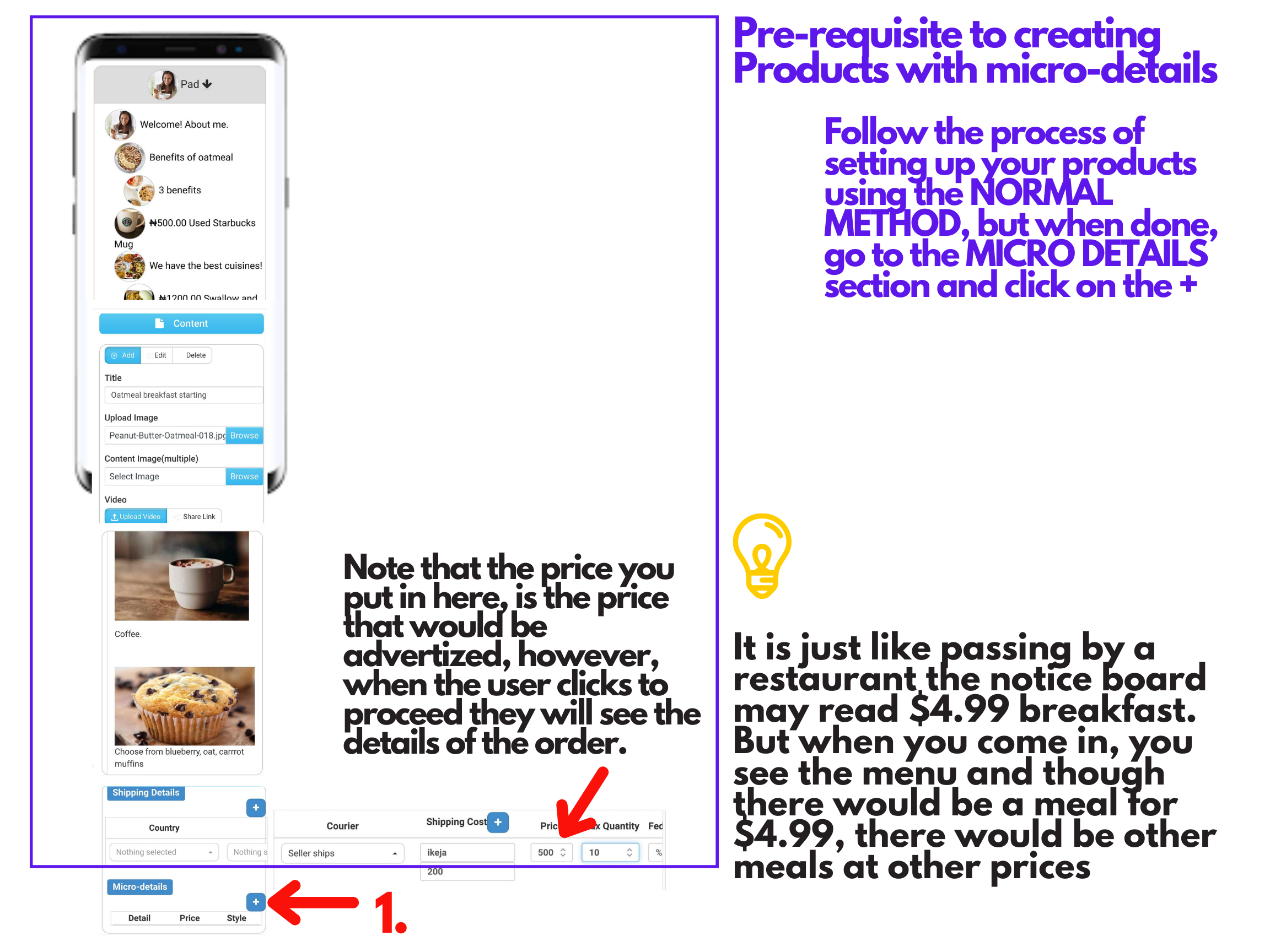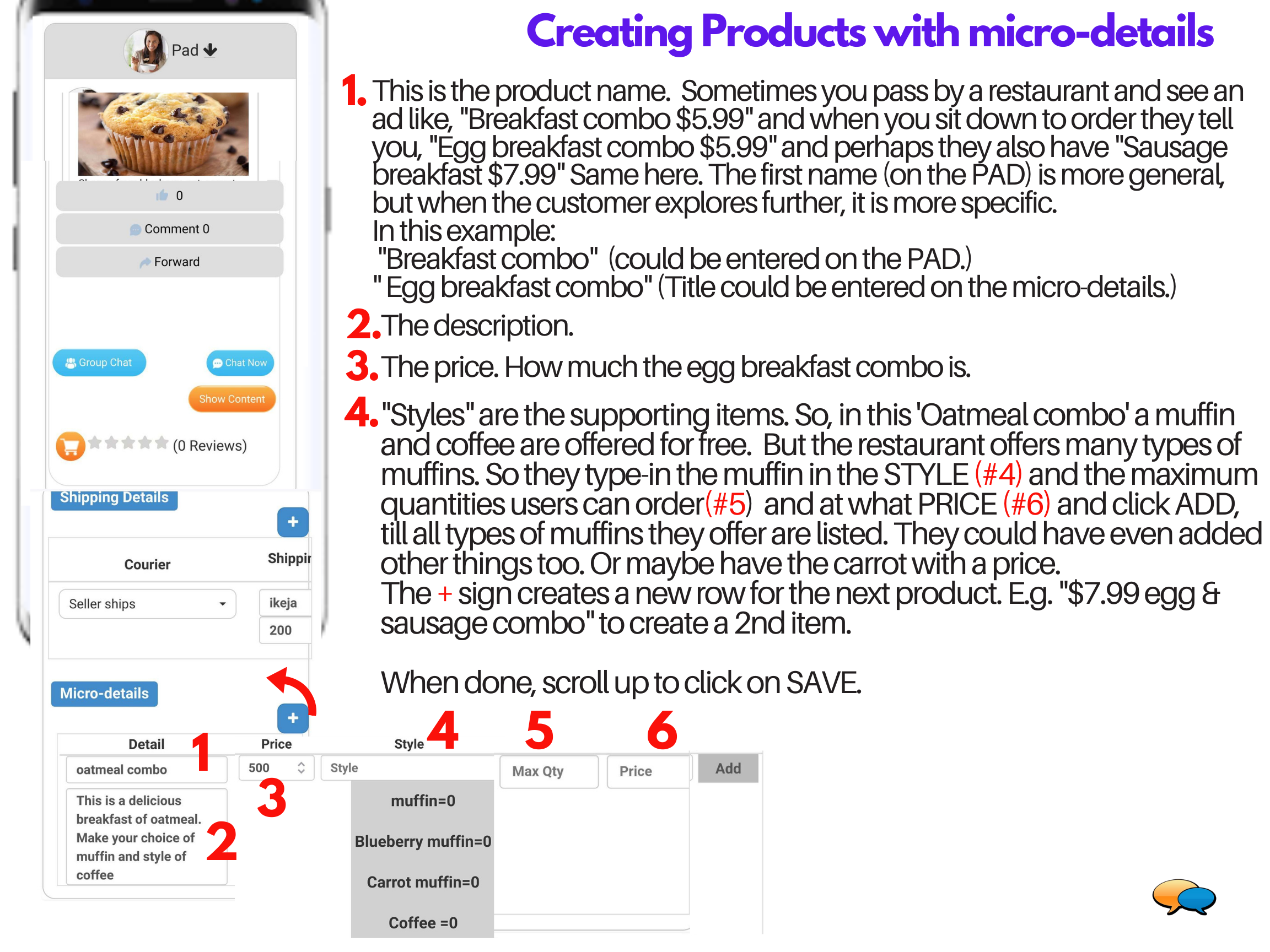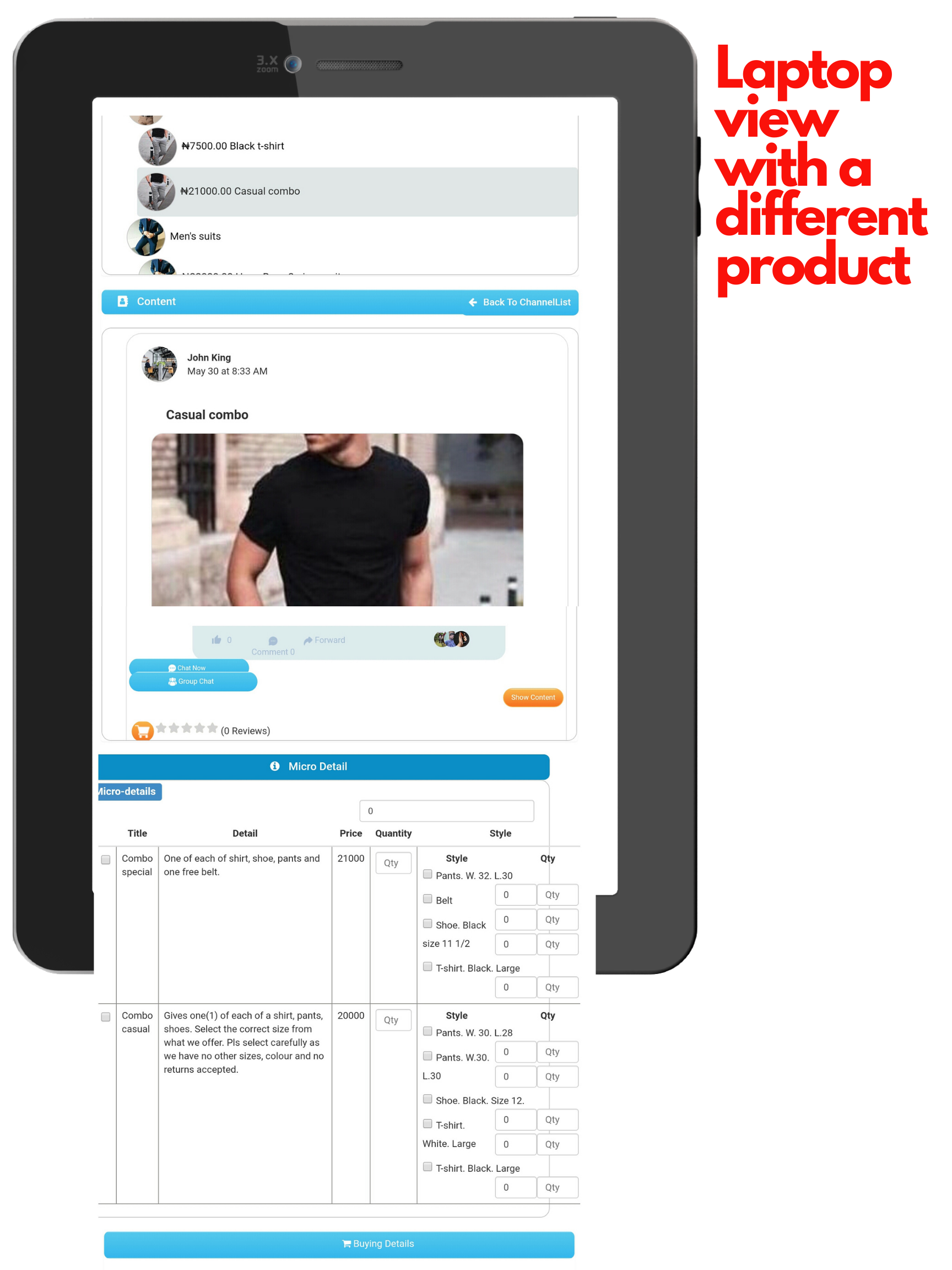 25. What is the CHAD? (Chitchatchannel Holistic Agile Development)
The CHASD (Chitchatchannel Holistic Agile Scrum Development) or CHAD ( Chitchatchannel Holistic Agile Development), is a new Project Management and Issue-tracking process integrated into every channel at Chitchatchannel— allowing for a holistic, one-stop-shop view of the entire Agile Scrum development lifecycle leading to greater inclusiveness, efficiency and simplicity of the Software Lifecycle development.

It is better explained by video though the Training channel 1463.1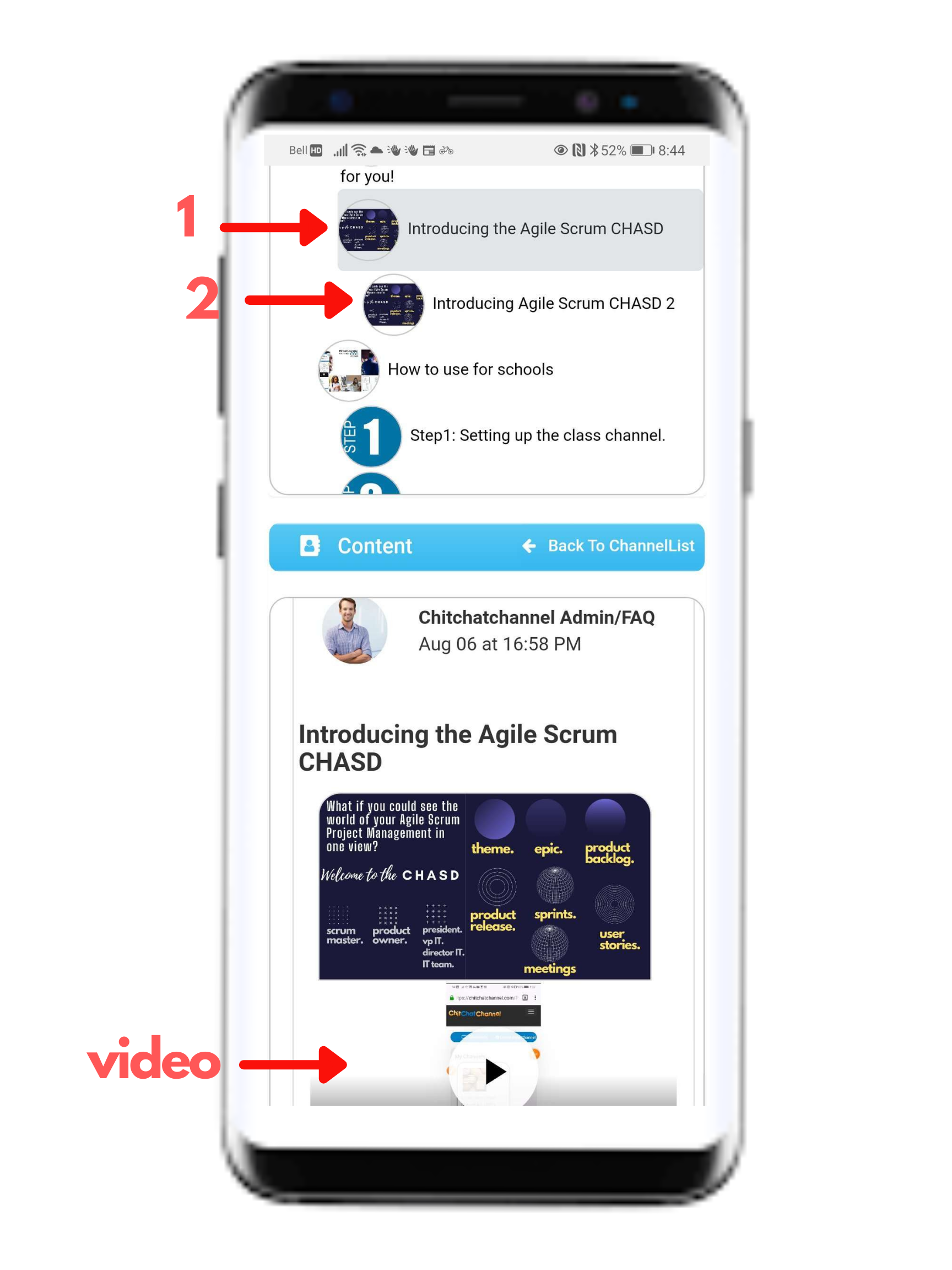 26. Comparing ChitChatChannel experiences